IT STARTED WITH A NAME
When we came up with the name 3 Legged Thing, we knew that this was the start of something truly different. It inspired the team to look beyond the mundane and drawn inspiration from other industries.
It began with colour. Introducing colour to tripods was, until that very moment, unheard of. It was a defining characteristic of the brand, and whilst the early days embraced colour for the sake of difference, as the brand evolved it began to consolidate, and shape the future with natural pantones.
Then came innovation. Travel tripods were ill-equipped to hold big cameras and lenses, and were limited to heights under 5ft, if they were to remain small enough to fit inside hand luggage. It was an inspired moment when Danny, having removed a monopod leg from one prototype and attached it to the centre of another, came up with the concept of multiple-section centre columns.
A new concept was born. A revolutionary new tripod, with beautifully engineered and anodized components, a triple section centre column, and the first travel tripod in the world that could extend to over 2m. The prototype was dubbed "Brian" - named after Dr. Brian May, whose iconic Red Special guitar inspired a whole generation.
CONSTRUCTION & ENGINEERING
The first thing that many new customers notice about our tripods is the build quality. We are universally recognised as being a premium brand, and we've earned it. Here's what makes us so special.
WEIGHT BALANCED LOCKS
Each of our patented Parallel Locks has had 26 g / 0.91 oz of weight added to lower the centre of gravity and optimise the rigidity and stability.
LOAD TO WEIGHT RATIO
Our load capabilities are upwards of 4x greater than most tripods with an average load to weight ratio of 17:1, higher than any other brand.
100% PURE CARBON FIBRE
3LT's Stealth Carbon Fibre is unique, 100% Pure, Japanese Pre-Preg. We use 8 layers, cured at 150°c for 3 hours, and rested for 7 days at 37°c.
CHICKEN LIPS
We use a single, "C" shaped mechanical shim, constructed from nylon, and naturally lubricated to ensure smooth opening, and stable locking of legs.
FEATURES AND MODULAR FUNCTIONALITY
In just seven short years we have found ourselves at the forefront of tripod technology, introducing new features and designs never before seen on tripods.
DETACHABLE MONOPOD & BOOM
One leg can be detached and converted to a monopod, camera boom, microphone boom, lighting arm, selfie stick or other similar function.
INTERCHANGEABLE FOOTWEAR
Each of our beautifully crafted foot accessories has a 1/4" stainless steel thread, with a 3/8" sleeve adapter for universal compatibility.
OPTIMISED ANGLES
Every tripod across our ranges operates to three specific leg angles, 23°, 55° and 80°, for optimum stability and maximum dynamic height range
DETACHABLE MODULAR CLAMPS
Our professional clamps are detachable, universally compatible, and can be used independently of a head via the 3/8" female threaded centre.
RANGE OVERVIEW
3 Legged Thing products are separated into ranges - we have a professional range which is divided into two colour categories - Equinox and Eclipse, and an entry level range called PUNKS. We also have a range of accessories including AirHeds, release plates, footwear and clamps.
PROFESSIONAL RANGE
Our Professional Range is divided into two unique colourways - Equinox, natural pantones of Bronze and Blue, and Eclipse, in metallic slate with hints of British Racing Green.
PUNKS RANGE
Punks are our entry-level professional tripod systems, with many of the features of our professional range. Available in two colour schemes - Punks, Grey and Blue, and Punks Anarchy, Matt Black.
ACCESSORIES
We offer a range of professional accessories including release plates, L Brackets, Clamps and an entire range of different footwear to keep your tripod stable in the toughest conditions.
EQUINOX & ECLIPSE PROFESSIONAL TRIPOD SYSTEMS
Our professional carbon fibre range bears two colour options; Equinox - natural pantones of Earth bronze and sea blue, and Eclipse - metallic slate with subtle hints of British Racing Green.
Our micro-traveler tripod - compact, powerfully strong, carbon fibre and multi-functional, with a load capability of 30kg.
The world's most versatile and functional travel tripod system. Built to fit in your carry, and yet still extends to 180 cm / 6ft.
Our sturdiest tripod yet - 3 section, 29mm pure carbon tubing, with removable centre column and detachable monopod leg.
PUNKS RANGE
Our Punks range is an entry to professional tripod technology, with more features and functionality than any other tripod in its class. With options in aircraft-grade magensium alloy or 100% pure carbon fibre, our Punks range is a breakthrough in entry level tripods.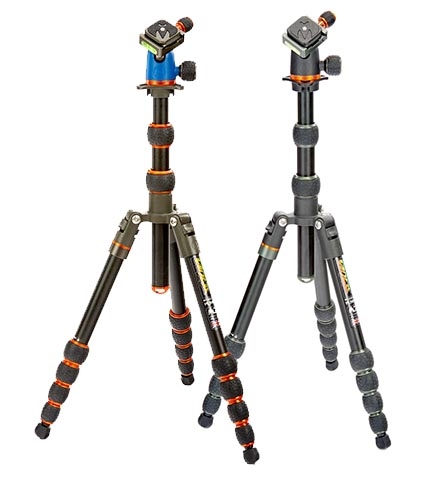 Our entry-level micro-traveler tripod - compact and strong, with a detachable monopod / camera boom. Constructed with aerospace grade Magnesium / Aluminium Alloy.
Travis is the epitome of a workhorse. Strong, durable, yet still easy to transport. A great all-rounder. Constructed with aerospace grade Magnesium / Aluminium Alloy.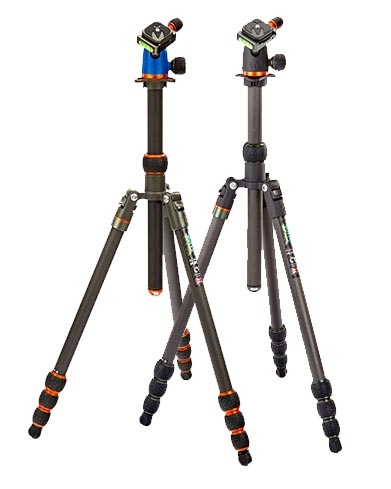 Our first carbon fibre Punk - Billy comes with the same design specs as Travis, but lighter and stronger.
Brian is a reincarnation of our most celebrated tripod ever. The World's favourite travel tripod system returns as part of our iconic Punks range.
AIRHEDS & ACCESSORIES
As with our tripods, our AirHeds have multiple functions and detachable clamps that can be used on any 3/8" thread. Our range of footwear is designed to help stabilise our tripods in the most adverse conditions and the harshest of terrains.
IGGY & THE CRADLE
"I find it hard to focus looking forward, so I look backward" - Iggy Pop
Portable, versatile and multi-functional.
Professional Monopods & Foot Stabilizer
Versatile, adaptable and resilient, powerful additional to any professional photographer or filmmaker's toolbox.
"Sometimes it is the people no one can imagine anything of who do the things no one can imagine." - Alan Turing
"In my nothing, you were everything to me" - Trent Reznor
Professional Monopod Foot